Environment ministers promote the circular plastics economy and continue discussions on climate adaptation and innovation
July 27, 2023 in News
Huntsville, ON – July 27, 2023 – Environment ministers met to make further progress on circular economy and discussed innovative solutions to lessen the impact of climate change and strengthen resilience and adaptation at the annual meeting of the Canadian Council of Ministers of the Environment (CCME) today.
Ministers discussed better management of plastic waste in Canada and received an update from the CCME working group on the Canada-wide Action Plan on Zero Plastic Waste. They highlighted their respective governments' initiatives to promote a circular economy and to strengthen their efforts to prevent plastic waste and pollution so that plastics are re-used, stay in the economy and out of the environment. Ministers heard and discussed concerns about the proposed federal plastics registry, single use plastics ban, and recycled content and labelling requirements, as well as the need to streamline measures. However, governments remain committed to working together towards a circular plastics economy.
"Ontario was pleased to host the 2023 meeting of the Canadian Council of Ministers of the Environment to discuss our shared commitment to protect the environment, create environmentally sustainable programs that support new jobs, and grow the economy. Working in partnership with other governments, Indigenous communities, industry, and local organizations, we're ensuring a safe, healthy and clean environment now and for future generations," said David Piccini, Ontario's Minister of the Environment, Conservation and Parks, who hosted his colleagues in Huntsville.
Ministers continued their ongoing conversations on climate change. They highlighted the role of innovation in supporting sustainable economic growth and advancing clean energy development, with a view to reducing greenhouse gas emissions.
Together, we have an opportunity to lead the world in the development of energy and critical minerals as well as emission reduction technology and innovation. Canada can address climate change and have a strong economy, and we are taking meaningful steps to do that now. Some ministers noted that energy security, reliability and affordability need to be considered. In order to achieve this, ministers highlighted the critical importance that jurisdictional responsibilities be respected, including strategies, tools, and unique approaches. They also agreed that meaningful engagement and partnership across equal orders of government are required.
Ministers discussed the varying impacts of climate change experienced across the country, such as increasingly severe wildfires, droughts, floods, permafrost thaw and sea-ice loss. Ministers expressed condolences for the loss of life that has occurred and acknowledged the sacrifice of first responders in their service to protect our communities as well as the efforts of all of those who are working hard to prepare for, respond to and recover from these events.
Governments are taking action to build resilience in the economy and across our respective communities. They are putting in place initiatives and strategies, stressing that collaboration and complementary efforts will be key to addressing climate impacts, especially in regards to strategic infrastructure needs. Ministers recognized the need for national leadership to invest in critical infrastructure, respecting provincial and territorial priorities and plans. These actions will ensure the safety of our growing communities and build resilience against extreme weather events.
"Canada has the resources and technology to drive clean, green growth across our manufacturing, automotive and resource sectors. As environment ministers, we play an important role in leading discussions to address environmental protection. As part of this, we recognize the importance of supporting Canadian industry to advance emissions reductions. The world is watching, and Ontario calls on the federal government to work with the provinces and territories to streamline processes and remove barriers to important green investments," said Minister Piccini.
Ministers held a separate and prior meeting with Indigenous leaders from National Indigenous Organizations and representatives from Ontario First Nations and Métis communities and organizations on July 26. Discussions focused on ways to improve collaboration on water issues. In addition, ministers heard the call for jurisdictions to continue to work with Indigenous communities and organizations to urgently build climate resilience.
Representatives from industry and environment organizations also met separately with ministers on July 26 to brief them on their work to increase the circularity of products and businesses in Canada. These initiatives aim to promote a circular plastics economy, while supporting efforts to protect the environment and strengthen the economy.
At the end of the meeting, Newfoundland and Labrador assumed the presidency of CCME. "I look forward to welcoming my CCME colleagues to our beautiful province in 2024 to continue these discussions," said the Honourable Bernard Davis, Minister of Environment and Climate Change, Government of Newfoundland and Labrador.
About CCME
CCME is the primary minister-led intergovernmental forum for collective action on environmental issues of national and international interest. CCME is composed of the environment ministers from the federal, provincial, and territorial governments. It was founded in 1964. www.ccme.ca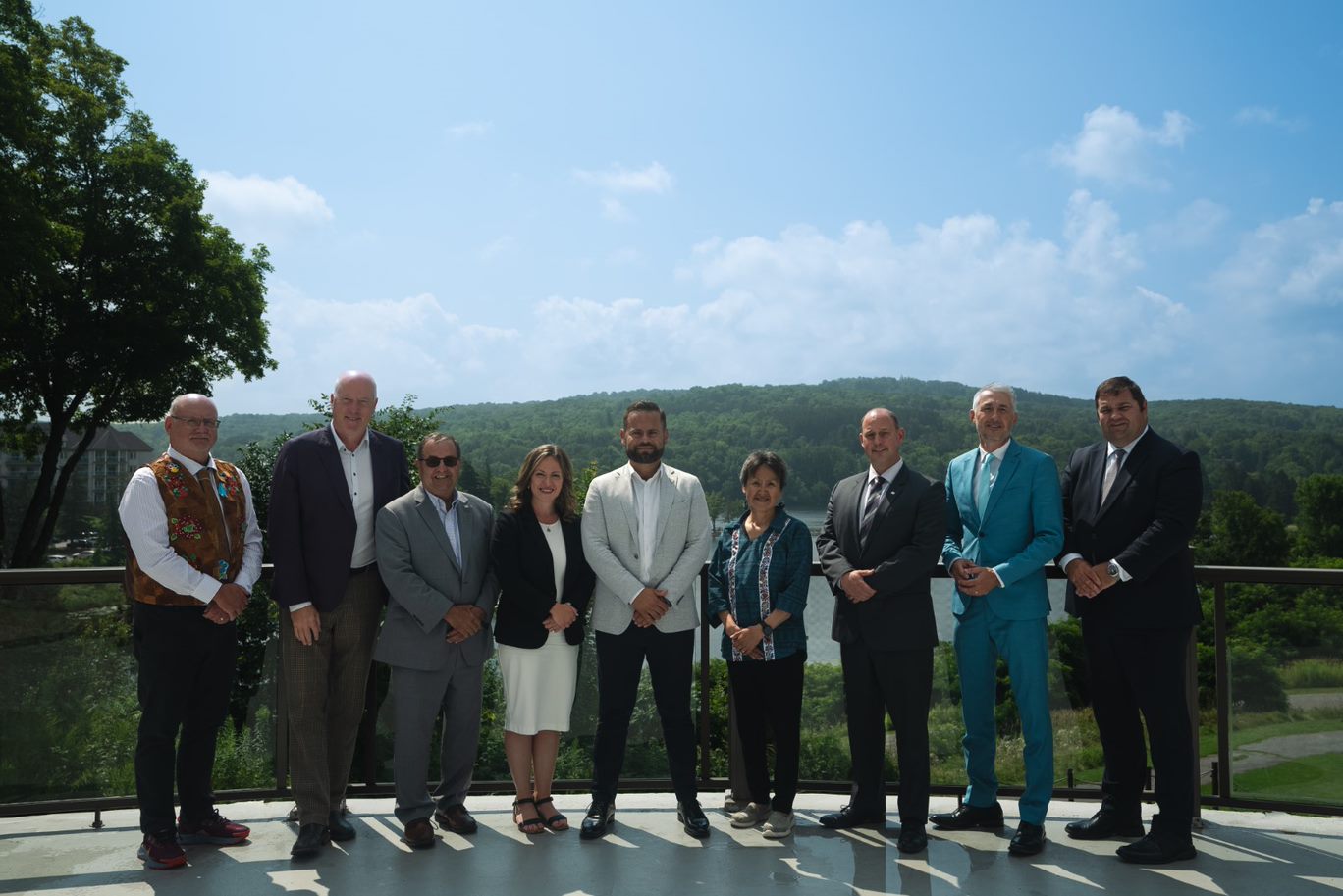 CANADIAN COUNCIL OF MINISTERS OF THE ENVIRONMENT
Photo Credit: Government of Ontario Left to right: Honourable Shane Thompson (NT), Honourable Nils Clarke (YT), Honourable Gary Crossman (NB), Honourable Rebecca Schulz (AB), Honourable David Piccini (ON), Honourable Joanna Quassa (NU), Honourable Timothy Halman (NS), Honourable Dana Skoropad (SK), Honourable Bernard Davis (NL)
Not in Photo: Honourable George Heyman (BC), Honourable Steven Guilbeault (CA), Honourable Kevin Klein (MB), Honourable Steven Myers (PE), Monsieur Benoit Charette (QC)
Contact
Krista Nazimek
Executive Director
CCME Secretariat
(204) 793-6442
Brock Hamley
Director of Policy
Ontario Environment, Conservation and Parks
(416) 314-6790